Meet the Staff! 
Cori Priebe – Owner 
My name is Cori Priebe. I am the owner of 4 Paws Unleashed, Inc. I started in the animal field as a graduated Veterinary Technician with a degree in Veterinary Technology in 2005. With my veterinary technician background and 2 years experience at a local veterinary hospital, I envisioned a place where your pets are treated as one of my own family, I envisioned a place where dogs were excited to go to the front door, instead of pulling in the opposite direction. I opened my first location in North Des Moines, in May of 2007. In December of 2008, I opened my second location in Clive to share the high standards that my facility sat with the west side of Des Moines. In 2011, 4 Paws was fortunate enough to move our North Des Moines location to a much larger and permanent building (located just down the street from the original location) to where it currently stands. In 2012, we were excited to join up with Paws & Effect, a Des Moines non-profit organization that raises and places service dogs for veterans suffering from PTSD and children with Autism. Pictured with me is Miss Bliss, my service-dog-in-training as we showed our support at the Iowa Capital. Not pictured with me is Dawson (Lhasa Bichon), Landon (Labradoodle- North Des Moines house dog), Cody (Flat Coated Retriever- Clive house dog), and Boo (American Pit Bull Terrier). I am proud to be the owner, manager and operator of two facilities that are dedicated to pets and their families. I look forward to meeting you and your four (or two) legged friends!
---
Amber Bonnett – Manager at Clive Location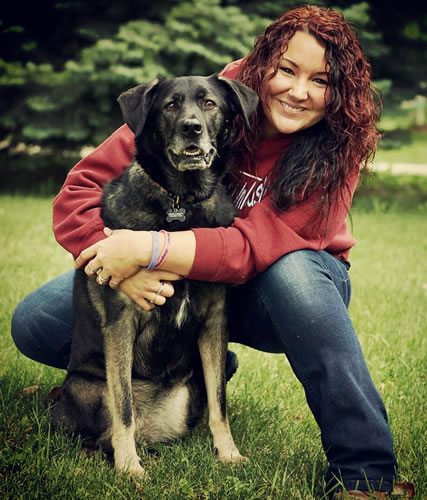 My name is Amber Bonnett. I am the manager at 4 Paws Unleashed in Clive. I was born and raised in Norwalk, Iowa. My passion for animals started very young and I have been working with them since I was 15. I graduated from Kirkwood Community College with a degree in Kennel Management. I have worked at 4 Paws Unleashed since June 2009 and love getting to know each and every animal and their individual personalities. I live in West Des Moines with my boyfriend and our dog Cinder (pictured). I look forward to meeting you and your pet(s)!
---
Additional Staff Members…