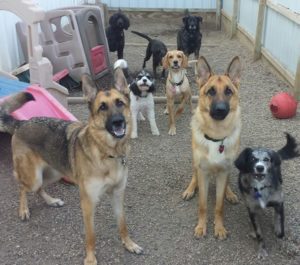 No more dreaded dog guilt! Let your dog enjoy the day with us in a nurturing, fun, and clean environment with a dog-loving staff that will ensure a friendly and safe environment.
Your dog's day will consist of:
Group play, games, personal interaction & nap/quiet time
Exercise in an action-packed setting
Dogs learn valuable social skills
Indoor & outdoor play areas
Energy outlet for lively dogs
Constant supervision by trained staff
Assistance with puppy potty training
---
1 Dog
$21
Per Day
5 DAY – $100
10 DAY – $190
20 DAY – $360
Multi-Dog
$19
Per Dog / Per Day
5 DAY – $90
10 DAY – $170
20 DAY – $330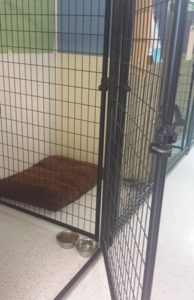 Tired of the same old kennel, where your dog only gets out a few times a day to go potty? Here at 4 Paws Unleashed, you can enroll your furry friend in doggie daycare while he/she boards. This will get them out of the kennel and into an action packed, indoor/outdoor setting during the day, and only in the kennel at night.
Boarding for all types of animals, including exotics, is available! Our facilities are designed for any pet to be taken care of while you are away. Rabbits, fish, birds, hamsters, guinea pigs, spiders, and reptiles including snakes and iguanas are always welcome to stay with us. We have experience with many exotic and pocket pets and look forward to meeting your creative friend! Our facilities are topped off by a separate cat rooms complete with windows (North Des Moines) or an active fish aquarium (Clive)!
Our intention here at 4 Paws Unleashed, Inc. is to make your pet feel right at home while you are away. We may not be home, but we strive to be the next best thing. The next time you go on vacation, let your pet go on vacation with us!
Convenient pick-up/drop-off times: Monday-Friday, 7AM-6PM; Saturday 8AM-10AM & 4PM-6PM; Sunday 4PM-6PM
Boarding is available 365 Days a Year, pick-ups and drop-offs are not available Easter Sunday, July 4th, Thanksgiving Day and Christmas Day- but boarding is still available
Owned & operated by a degreed and experienced veterinary technician
All boarding areas are climate controlled
Very clean
Staff trained to administer pet medications if needed
Individual playtime available
Optional full service grooming available
Discounted overnight dog boarding is available with doggie daycare services
5 outings a day for dogs
Daytime kenneling is available
Owners may bring their own food or a premium dog/cat food is provided
Cats have their own boarding room with individual cat condos
Less than 50lbs
$21
Single Dog
2 Dogs – $36
3 Dogs – $48
4 Dogs – $60
5 Dogs – $70
Over 50lbs
$26
Single Dog
2 Dogs – $41
3 Dogs – $54
4 Dogs – $68
5 Dogs – $80
1 Dog over 1 Dog under $38/per night
2 Dogs under 1 Dog over $50/per night
2 Dogs over 1 Dog under $52/per night
Options during boarding
Daycare Mon-Fri Full Day — $11/per day/per dog
Daycare Mon-Fri Half Day — $6/per day/per dog
Daycare Weekend (Sat/Sun) — $7.50/per weekend/per dog
Cot — $5/per night
Frozen Peanut butter kong to be given over night — $2/per night
15 minute walk — $5/per walk
We are in the process of revamping our training programs to better serve you and your animals needs, please be patient while we work on these.
Our Clive location has recently added a new groomer to the groomer team, Kirsta! Kirsta is very excited to meet your furry friend and bring an exciting twist to our grooming depart (fur coloring) along with regular grooming. Kirsta has been training with Demelza for over a year at 4 Paws. Demelza and Kirsta are anxious to meet and pamper your four-pawed furry family member!
Our north location also has a new groomer, Tayler! Tayler has recently come back to our team after taking a two year break to learn how to groom. Tayler is currently taking new customers and would love to groom your four-pawed furry family member!
By appointment or during boarding, assuming availability
Fish Supplies
Our north location is now offering Salt Water Aquarium Supplies! Products include the Aquaforest line, various foods including LRS, Masstick and pellet foods, Reef Nutrition products, Vibrant, RODI replacement filters and much more! These products are currently only offered at our North Des Moines location.